Face Painting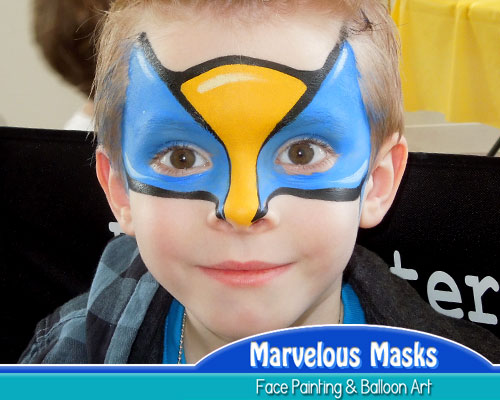 Age Range
Face Painting is best stuited for children over the age of 5.
Often children younger than that arent' able to sit still long enough and some simply do not want a stranger touching them.
I generally recommend Airbrush for parties where most of the children are in the 2-5 age range for this reason alone.
Designs
Single Eye Desings: 2-3 minutes
Half Faces: 3-6 minutes
Cheek Art: 4-8 minutes
Full Faces: 6-10 minutes
Weather
Face Painting is not recommended in temperatures above 80 degrees or below 50 degrees.
Face Paints are water activated and so the hotter it gets the more likely it is to run down the face.
Working Conditions
No additional conditions.
Summary
Face Painting is a poor option for pool parties. It will come right off in the water.
Face Painting is a fantastic option for indoor or most outdoor events with children above age 5.
Airbrush Tattoos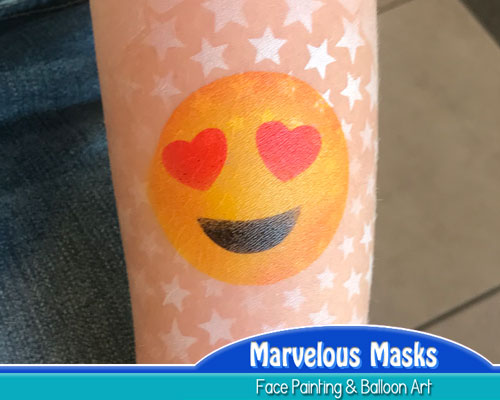 Age Range
Great option for all ages over 2.
Designs
Most small designs can take less than a minute if needed, but on average plan 2-3 minutes per child for basic designs and up to 6 minutes for more detailed ones.
We have a small selection of "realistic" tattoos that can take up to 10 minutes.
Weather
No additional conditions.
Working Conditions
Artist needs access to an elctrical outlet for the comporessor for indoor events. This compressor is very quiet.
For outdoor events, we have a battery powered compressor that lasts up to 4 hours. This comporessor is fine for outdoors, but is too loud for indoor events.
Summary
Airbrush Tattoos are great for basically any kind of event, particulary with younger children, or when you want "something small."
They work great for pool parties, or when it's really hot outside.
They are also a great option for schools, sporting events and grand openings.