Face & Body Painting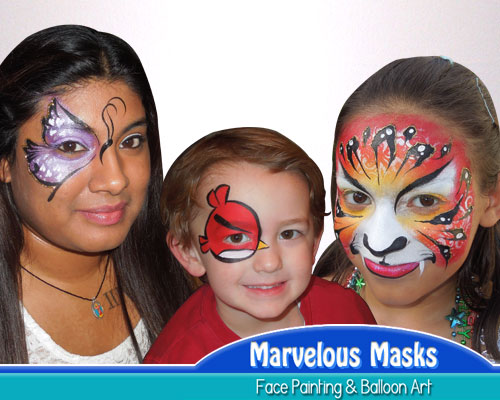 Fantastic Face Art
Marvelous Masks offers a multitude of full face designs to choose from. From butterflies and tigers to super heros and skulls... we can do it.
Whether you are looking for elaborate designs or quick and simple faces, we have plenty to choose from, including a wide array of custom creations and abstract pieces.
We use only the highest quality of cosmetic face paint and glitter. They are safe for the skin, and wash off with ease.
Our makeup is very gentle on the skin, so you don't have to worry about reactions or those badly stained faces.
Our makeup also works great on hair to give designs a complete look kids just love!
Options Galore!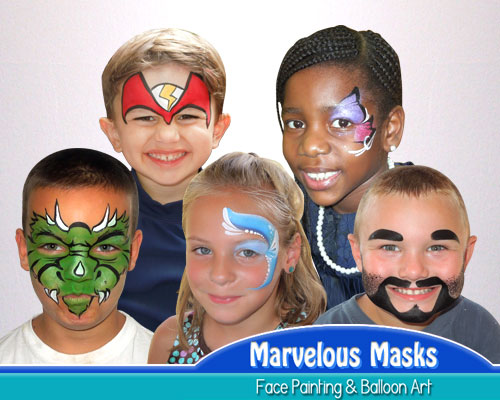 Tons of Face Art Options
Our designs are always painted by hand with brushes and sponges; no spray face designs. On average they take between three to seven minutes each.
We offer hundreds of designs and can cater our menu to meet your exact needs; whether you have time for full faces or need quick designs.
Our menu setup allows us to provide the highest quality designs for as many guests as possible.
Balloon Twisting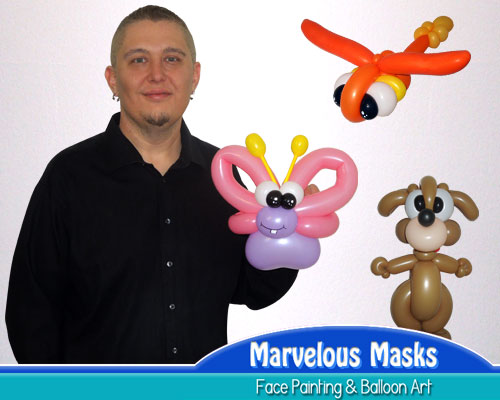 Live Balloon Twisting
Live Balloon Twisting is when you hire a Balloon Artist to come make balloon creations at your event.
This is by far the most popular Balloon Twisting option. We have the largest menu selections in Chicago offering well over 1000 balloon art designs.
Our setup allows us to adjust our selections to each event, and to provide the best designs for your budget.
Clayton doesn't offer basic dogs and swords. Every event is an opportunity to leave a lasting positive impression.
If you hire Marvelous Masks, please do so knowing quality always come first.
Balloon Deliveries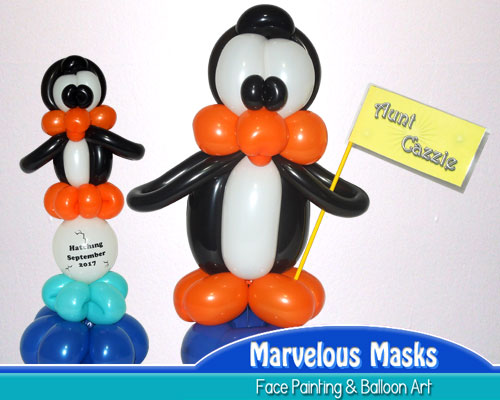 Balloons Make Perfect Gifts
Having a balloon delivered makes for a wonderful gift. ChiTwist gets calls all of the time for all sorts of occasions.
Whether it's a "You're Going to be a Grandpa" balloon or just an "I Was Thinking of You" design, ChiTwist has the balloon creation for you.
The process is fairly simple; all you need is an idea of what you'd like to send and we will help you come up with something your friend or loved one will remember forever.
Candy Cup Balloons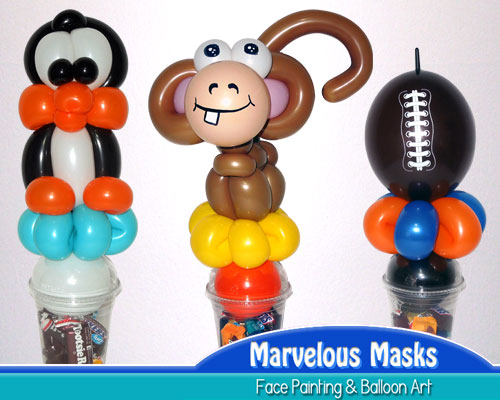 Sweet Twisted Treats!
Candy Cub Balloons are a WONDERFUL way to send party guest homes with something sweet and incredibly unique.
You can order a mix and match selection or get them all the same. You can also choose to have them pre-filled with candy or fill them yourself with your favorite candies.
If you don't see what you want on the gallery page, please let us know what you have in mind and we'll be happy to twist something up and email you a sample.
Additionally, for a small creation fee, we can create and cut custom decal stickers to decorate the outside of each cup; even if you just want each child's name on them.
Balloons-to-Go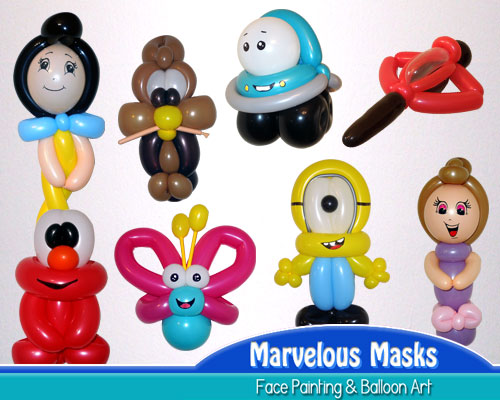 Take Some Balloons With You!
Balloons-To-Go is a great option when your event is really short or when you just have more children than your artist will have time to create balloons for in the time you have booked them.
For example, we recently worked an event for UIC where the event was only an hour long but they were expecting 70 children.
The extra balloons were enough to make sure every child in attendance was able to get a great balloon design.